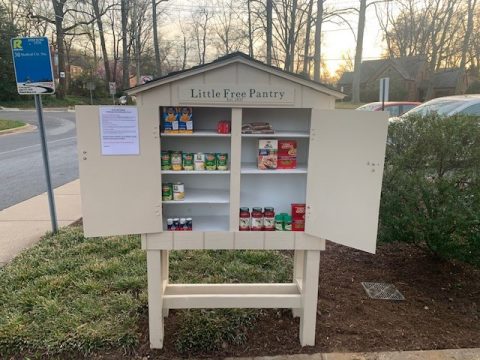 BUMC is pleased to serve as a site of a Little Free Pantry, a global outreach of neighbors helping neighbors. Our pantry is located along Huntington Pkwy near the entrance to the church offices and is always available for anyone in need. 
Want to help keep our pantry stocked? Here is the list of needed items:
NOTE: All cans should be EASY-OPEN and not require a can opener. Please no "Family-Sized" items because of limited space.
Grains:  Instant/quick-cook oatmeal, breakfast cereals (unsweetened), white or brown rice (small boxes or bags), any kind of pasta, mac & Cheese, granola bars, breakfast bars, peanut butter crackers, cheese crackers, pancake mix, instant mashed potatoes
Canned protein:  tuna (5 oz. or 12 oz.), chicken (12.5 oz.), canned salmon (12 oz.), any kind of beans (15 oz.), refried beans, low sodium soup/stew/chili
Canned fruits or fruit packs (in light syrup or juice):  peaches, pears, mandarin oranges, mixed fruits, any flavor apple sauce (no sugar added)
Canned vegetables (15 oz., low sodium):  green beans, corn, peas, mixed vegetables, lima beans
Other food items:  Small bags of dried beans, canned low sodium soups (15 oz. with lift-off tops), canned spaghetti sauce (15 oz.), peanut butter (creamy or crunchy), small containers of shelf-stable milk (not powdered milk), boxed chicken broth
Non-food items:  band aids, Feminine Hygiene Products (sanitary napkins, tampons), small flash lights, paper towels, individually wrapped rolls of toilet paper, bars or small dispensers of soap, pairs of socks, knit gloves, toothbrush, toothpaste, diaper wipes