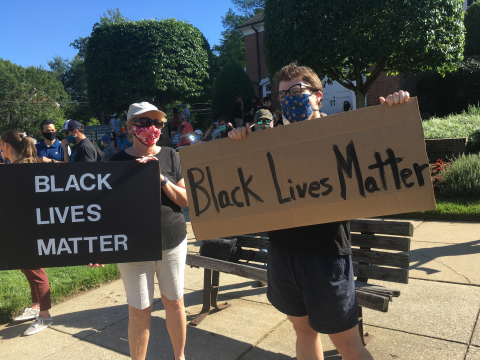 Racial Justice Ministry
BUMC's Racial Justice Ministry is prayerfully working towards identifying and dismantling racism. As people of God, we lament and confess the sin of racism and we commit to work without ceasing, led by the Spirit of God, to resist and deconstruct racism wherever it exists. Recent events led an interfaith group of clergy from the Bethesda-Chevy Chase area (including BUMC's pastors) to release this statement  in response to the death of George Floyd. Each Sunday from 5:00-6:00 pm (4:00-5:00 pm in the winter months), our church is also engaging in a peaceful time of witness along Old Georgetown Rd. Bring your signs advocating for racial justice and join us as we Listen, Learn, Act, and Advocate for racial justice. 
Below are some resources that members of the congregation have found helpful as we get started learning about all the complex issues involved.  A fuller list, including resources for children and youth, is available on our Racial Justice Resources page. We plan to continue to update this list as we become aware of other resources. 
Getting started:
Praying for Change: Daily Prayers for Anti-Racism from United Methodist Discipleship Ministries
Listen to this 7-minute NPR story from June, 2020:
Black Female Lawmaker In Minnesota Worries About Teenage Son's Safety
"…if you can't walk out into the world and just be seen as a 17-year-old boy who loves to run, there's something deeply wrong with that."
Watch this 17-minute TEDx talk from November 2014:
How to overcome our biases? Walk boldly towards them.
Diversity advocate Vernā Myers looks closely at some of the subconscious attitudes we hold toward out-groups. She makes a plea to all people: Acknowledge your biases. Then move toward, not away from, the groups that make you uncomfortable. 
Watch this 19-min TEDx talk from March 2016:
Let's get to the root of racial injustice
Megan Francis traces the root causes of our racial climate to their core causes, debunking common misconceptions and calling out "fix-all" cures to a complex social problem. Dr. Francis received her M.A. and her Ph.D. in Politics from Princeton University.
Read this article to get a 5-minute history lesson:
3 Things Schools Should Teach About America's History of White Supremacy
Lesson plans tend to gloss over the U.S.'s deeply entrenched institutional racism.

Learn history through this set of three graphic novels:
March (Trilogy) by John Lewis, Andrew Aydin , et al. 
March is a vivid first-hand account of John Lewis' lifelong struggle for civil and human rights, meditating in the modern age on the distance traveled since the days of Jim Crow and segregation. Rooted in Lewis' personal story, it also reflects on the highs and lows of the broader civil rights movement.
Reflections on recent events:
Listen to this 48-minute podcast:
Clint Smith Reflects On This Moment TED Radio Hour
The killing of George Floyd by a police officer has sparked massive protests nationwide. This hour, writer and scholar Clint Smith reflects on this moment, through conversation, letters, and poetry.