​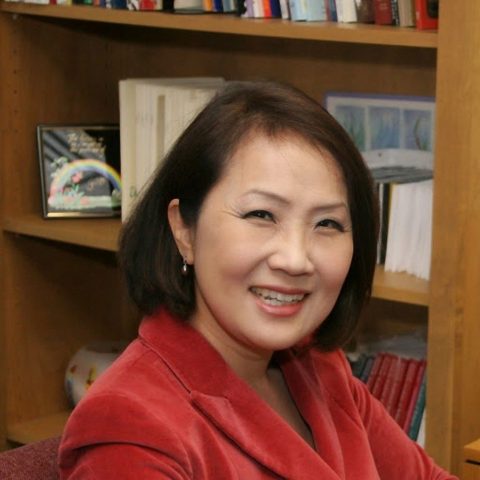 Rev. Dr. HiRho Y. Park, Lead Pastor 
Rev. HiRho is an elder in the Baltimore-Washington Annual Conference, UMC. She formerly directed professional development, including digital education, especially for clergywomen and racial-ethnic clergy, at the General Board of Higher Education and Ministry of the UMC, for fifteen years. Recently, Rev. HiRho served as vice-president for International Relations and Advancement at Huree University, Ulaanbaatar, Mongolia. Park earned her Ph.D. in Practical Theology from Boston University and D.Min. from Wesley Theological Seminary in Washington, DC. Park is the author of a few books; most recently, she published Develop Intercultural Competence (2019), Contextual Theology: Intersectionality of Gender, Race, and Class (2020), and Nevertheless She Leads: Postcolonial Women's Leadership in the Church (2020). She is a clergy couple; her husband, Rev. JW Park, serves the St. Matthews United Methodist Church in Bowie, MD. They have one daughter, Felicia, and a canine daughter, Mandoo.  
​​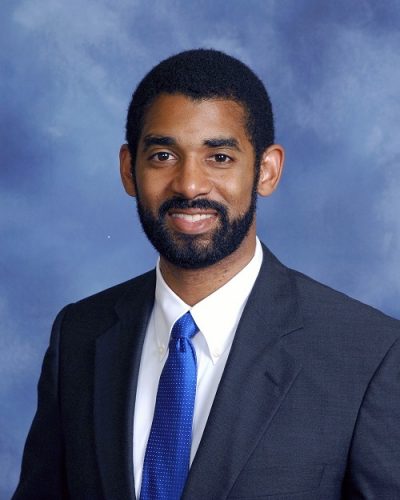 Rev. Scott Bostic, Associate Pastor 
Rev. Scott is a provisional elder in the United Methodist Church in the Baltimore Washington Annual Conference.  Originally from Atlanta, Georgia, Scott graduated from the U.S. Military Academy in West Point, NY and served the U.S. Army as an infantry officer and healthcare administrator from 2005-2012. He deployed to Iraq in 2009-2010 with 2nd Brigade Combat Team, 10th Mountain Division. He is also a graduate of Wesley Theological Seminary.  He was appointed from 2015-2017 at Asbury United Methodist Church in Washington, DC as a part of the ministerial staff. There he strengthened existing youth programs and broadened the youth ministry to include connectional church involvement, missions and service, and outreach to local schools.  He has a passion for serving people who are marginalized and creating opportunities for change especially through empowerment and education. He currently lives in Alexandria, VA, with his wife and daughter. 
Beth Reilly, Director of Christian Education 

Beth grew up in Germany and Switzerland.  She went to William and Mary to study Elementary Education and taught 2 years in Surinam, South America before attending the University of Virginia to work on a Master's in Special Education.  After teaching in North Carolina and Alaska, she became a stay-at-home Mom for Lauren, Kaitlyn and Michael.  Beth focused on home and church.  She led advocacy work and taught Sunday school.  In 2007, the family moved to Maryland, and Beth became an Advocacy Consultant for the Baltimore-Washington Conference and worked on gun violence prevention with the General Board of Church and Society.  Beth is completing a Master of Arts in Theology at the Ecumenical Institute of Theology at St. Mary's Seminary & University in Baltimore.  She is thrilled to be a part of the staff at BUMC, focusing on Christian Education.  She loves the opportunity to combine numerous passions … for children, youth, education, the church, ministry, and social justice.
Kara Peace, Director of Student Ministries
Kara, a Maryland native, earned an Associate's degree at Carroll Community College, and then took a "gap year" to serve as a missionary in Ecuador, India, and Zambia.  Through this experience, she felt drawn to working with youth and enrolled at Lancaster Bible College in Lancaster, PA, where she graduated in May of 2021 with a double major in Youth and Young Adult Ministry, and Biblical Studies.  Before and during her studies, she interned at several churches and Christian youth outreach centers where she gained experience in diverse settings including camp, retreats, church, nonprofit, and college youth ministries.   When not at work or church, Kara enjoys longboarding, video games, cooking, being outdoors, and taking care of her many plants. Kara and her husband, Josiah, were married in June 2021 and are now located in the Silver Spring area.
Chris Warrington, Director of Music & Organist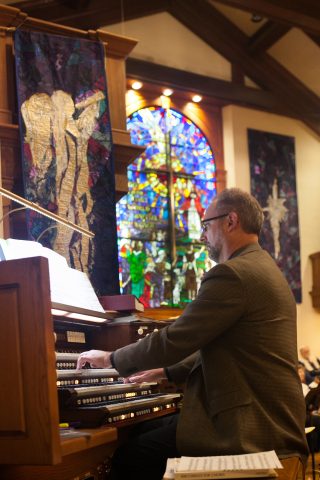 Chris came to BUMC in April of 2001 as part-time Organist/ Accompanist and was selected to become the full-time Director of Music Ministries in July of 2013. A graduate of Towson University, Chris has been a church organist since 1986, and has served three United Methodist congregations since that time. When not at church practicing or arranging charts for the Praise Band, Chris enjoys bicycling, sailing, working in the yard...just about anything outside! He is the proud father of three children (Stephanie, Scott, & Thomas). 
Max Nolin, Choral Conductor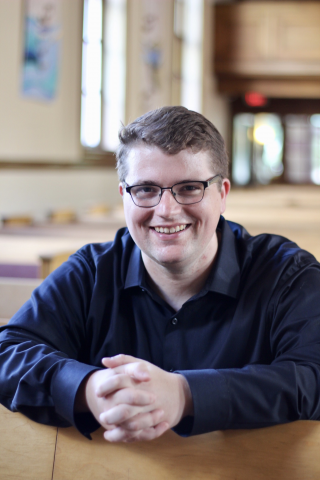 Max was born and raised in Kent, Ohio, where he was involved in sacred and secular music from an early age. He received his master of music degree in choral conducting from Westminster Choir College in Princeton, New Jersey where he was the assistant conductor for the school's touring and flagship ensemble, the Westminster Choir. His choral singing experiences with the school included performances with the Philadelphia Orchestra, New York Philharmonic, and Vienna Philharmonic.
Before coming to BUMC, Max was Director of Music Ministries at Community Congregational Church in Short Hills, NJ. In addition to directing the Sanctuary Choir at BUMC, Max teaches vocal and instrumental music to students in grades 6-12 at the  The Norwood School in Bethesda. 
Gail Williams, Director, Bethesda Bells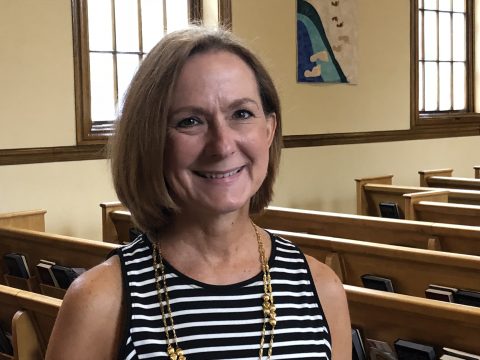 Gail received a Bachelor of Arts degree in Music from St. Olaf College, Northfield, Minnesota where she studied flute and piano.  After attending a year of business school in Mankato, Minnesota, she relocated to Washington, DC where she joined the Bethesda United Methodist Church sanctuary choir, gave flute and piano lessons and joined the Choral Arts Society of Washington directed by Norman Scribner. She sang with Choral Arts for nearly ten years, the highlight of which was the invitation to sing at the Spoleto Festival in Italy. Gail works as Director of Accounting Operations for Bernstein Management Corporation and continues to sing in the Sanctuary Choir.  Gail has been the director of Bethesda Bells since 2007.
Kris Hoxha, Office Manager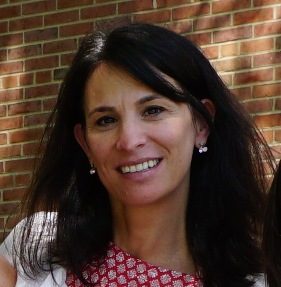 Kris has anchored the staff for close to 30 years and her duties include bookkeeping, payroll, office administration and being the friendly voice of BUMC that most people first encounter. In her life beyond BUMC, she is very active as a Captain of the Wheaton Volunteer Rescue Squad where she is trained to do sophisticated accident and fire rescue and recovery operations. Her other passions include riding her Harley "Road King" whenever the weather allows, playing golf, and skiing.