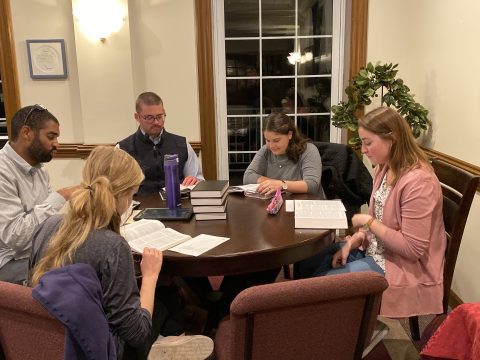 BUMC offers a variety of opportunities for adults to gather in small groups for learning and fellowship.  All are open to anyone who wishes to join them.  Contact Rev. Scott or the church office for more information.
Sunday School
We have three weekly adult Sunday School classes (Parenting in Faith; Beyond; and Philosophy, Theology, and Religion) which meet on Sunday mornings.  More information about these classes is available under the Sunday School tab.
Seasonal Small Groups:
Each Season we have small groups that meet regularly as a chance for members of our community to grow together in faith with a specific focus for short and long term studies.  Click here to learn more about our Fall Small Groups.
Advent Small Groups
Every Advent we have small groups that gather to look at scriptures and themes of the Advent season as part of our preparation for Christmas and the birth of Jesus.  We invite you to consider joining one of these groups. 
Lenten Small Groups
During Lent, adults have the opportunity to sign up for one of our Small Groups, which meet once a week for five weeks online or at homes around the area. These very popular groups provide an opportunity to gather for Bible study, reflection, and the chance to get to know one another on a deeper level.