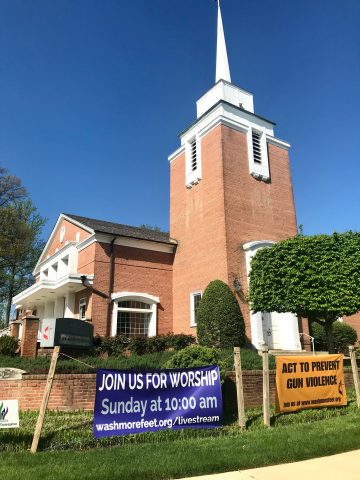 WELCOME TO BUMC! 
The pastors, staff and people of Bethesda UMC welcome all to worship, grow, connect and serve with us! Sundays are the busiest day around here with hybrid worship at 10:00 am (see more below on that!), Sunday School for all ages, youth group, and monthly young adult brunches, but you'll find that there's something going on just about every day of the year! Click here to see our full Sunday Schedule.

Feel free to poke around our website, check out the May edition of our newsletter, The Messenger, or contact us at BethesdaUMC@washmorefeet.org to be added to our email list for all the up-to-date information about what's happening at our church.  Please note that most events are currently virtual and take place on Zoom or YouTube (be sure to subscribe to BethesdaUMCMD). 
We take your health and safety seriously: 
BUMC, under the guidance of our Re-Entry Team, has established a number of safety protocols designed to keep our congregants and staff healthy. We want you to feel comfortable knowing that these measures are in place and being rigorously followed. We also continue to closely follow the health guidance from the CDC and our local health department as to the level of risk in our community for COVID-19 infection.  We invite you to review our safety procedures for in-person worship and contact us if you have any questions or concerns. 
WORSHIP 
Hybrid Worship
REGISTER:  Hybrid Worship In-Person Registration
BUMC is offering a hybrid version of worship that allows for a limited number of people to attend worship in-person in the Sanctuary. Online worship will continue to be offered on our YouTube channel (BethesdaUMCMD). Pre-registration is required for all in-person worship services. Registration is currently open for Sundays through June 27th.  Sign up here if you'd like to join us in-person. Social distancing, masks and other safety measures are required. 
Praise in the Parking Lot
REGISTER:  Praise in the Parking Lot Registration
You are invited to sign up for our next outdoor worship experience on Sunday, May 23 at 12:30 pm.  This service, specially designed to be family-focused and child-friendly, will take place in the Huntington Pkwy parking lot of BUMC.  Masks are required and your household will be assigned a social distant space when you arrive. Please bring your own chair(s) if possible. 
---
Vacation Bible School: June 21-25
REGISTER:  Vacation Bible School Registration (In-person & Virtual)
VBS registration closes on May 10th. We are asking for a donation of $10 per child/ $20 per family ($5.00 for each extra T-shirt). Registration will include craft supplies, a CD and a T-shirt. 
Questions? Email VBS@washmorefeet.org
There are two ways to participate in VBS this summer as we set sail for our Discovery on Adventure Island in a Quest for God's Great Light! 
①  In-Person Family VBS
In-Person Family VBS will take place outside with social distancing measures in place.  All participants must wear masks and be accompanied by at least one parent. There are two times for you to choose from:
   + 5:30 - 6:30 pm (with optional bring-your-own picnic at 5:00 pm)
OR 
   + 7:00 - 8:00 pm 
Families will experience VBS together in a designated space in our parking lot while they enjoy music, Bible stories, crafts and recreation. Families have the option of joining for all or part of the week. 
②  Virtual VBS
We are also planning a Virtual VBS with videos available for viewing at any time during the week. Supply pick-up for Virtual VBS is planned for June 13th, noon-1:00 pm.
---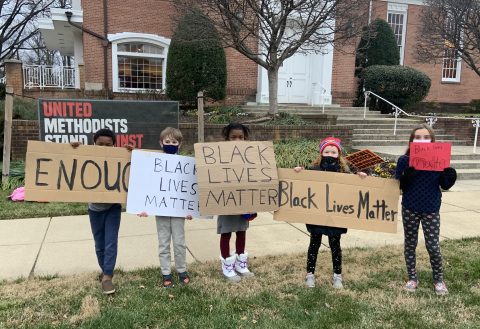 RACIAL JUSTICE MINISTRY
BUMC's Racial Justice Ministry is prayerfully working towards dismantling racism as a way of living out our faith in the liberating power of Christ. One of the ways our congregation has committed to that goal is by standing in peaceful witness alongside Old Georgetown Road every Sunday from 5:00 - 6:00 pm. Bring your signs of support and come take a stand (don't forget to wear a mask and practice social distancing). We invite all to join us as we Listen, Learn, Act, and Advocate for racial justice.  Ready to get started? Check out the Racial Justice Resources that members of our congregation have found helpful in learning about these complex issues.
---
RE-ENTRY INFORMATION
BUMC is currently is Stage 2B of our Re-entry Plan that works towards the goal of resuming in-person activities at church, while ensuring the health and safety of our congregants. Masks and social distancing precautions remain in place for all gatherings and RSVPs are required to attend an in-person gathering. You can view more information about our Re-Entry plan here
Lenten Mission Calendar
Follow along on our Lenten Calendar which offers ways to learn, advocate and serve on each of the 40 days of the season.