SUNDAYS AT BUMC 
Bethesda UMC's full schedule kicked off on Sunday, September 13th.  We invite you to check out the schedule below and also the September edition of The Messenger for all the details about ways you can connect here on Sundays (and Monday-Saturday, too!). Please note that most events will be virtual and take place on Zoom or YouTube. You can email the contact person listed for more details or to access the Zoom info.
9:00 am          Philosophy, Theology & Religion (PTR) Adult Sunday School Class
                       Don Ross: donandpatty1@verizon.net   
                       Faith-Filled Parenting Adult Sunday School Class
                       Beth Reilly: beth@washmorefeet.org
10:00 am       Worship
                      YouTube Channel: BethesdaUMCMD  www.washmorefeet.org/livestream
                      Click here for a copy of the Sunday bulletin
11:00 am      Children's Time (Pre-K through 5th grade)
                      Beth Reilly: beth@washmorefeet.org
                     Beyond Adult Sunday School Class
                     Jack Fisher: jrfisher57@outlook.com
5:00 pm        Racial Justice Witness (In-Person) outside along Old Georgetown Rd.
                     (please maintain social distancing and wear a mask)
                     Rev. Jenny (jenny@washmorefeet.org)
6:00 pm        Youth Sunday School (Middle School & High School)
                     Rev. Scott (youth@washmorefeet.org)
7:00 pm        UMYF (Grades 6-12)
                     Rev. Scott (youth@washmorefeet.org)
RE-ENTRY UPDATE
BUMC's Church Council approved the followed Re-Entry Plan that works towards the goal of resuming in-person activities at church, while ensuring the health and safety of our congregants. A summary of the plan appears below and you can view the full version here.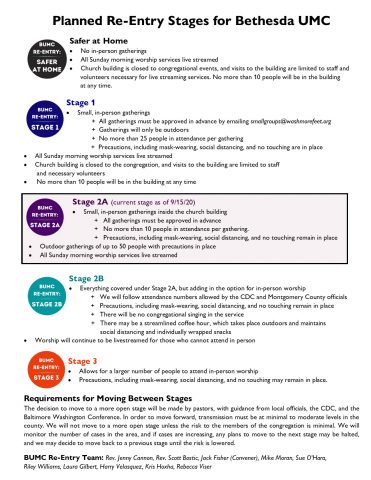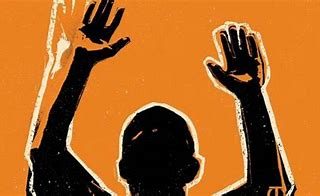 RACIAL JUSTICE MINISTRY
BUMC's Racial Justice Ministry is prayerfully working towards dismantling racism as a way of living out our faith in the liberating power of Christ. We invite all to join us as we Listen, Learn, Act, and Advocate for racial justice.  Ready to get started? Check out the Racial Justice Resources that members of our congregation have found helpful in learning about these complex issues.

BUMC'S MASK MINISTRY
A talented group of crafters here at BUMC is working to create cloth masks designed to be worn in public places during the COVID-19 pandemic. If you would like to request a mask (or volunteer for this ministry), please fill out this form.