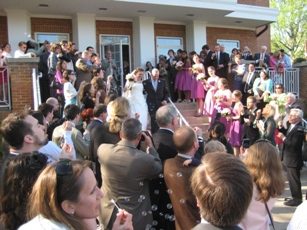 Both Rev. HiRho & Rev. Scott perform wedding ceremonies at Bethesda UMC (and off-site, too) for members and friends of our congregation. If you decide to be married here, we can help you plan a wedding that is uniquely your own and one that you'll remember for a lifetime. 
Each couple is expected to meet with the pastor for premarital counseling prior to the scheduled wedding. You will also have the opportunity to meet with the pastor to do individual planning for your ceremony. We have wedding coordinators who will help with the logistics (candles, flowers, etc.) ahead of time, at the rehearsal and on the day of the wedding. Depending on your needs, we can also provide you with an organist, soloists, other instrumentalists, and/or a sound technician.
If you're thinking about having a wedding at BUMC, contact either Rev. HiRho or Rev. Scott and we'll be happy to answer any questions about what's involved.