Welcome to Bethesda United Methodist Church!
Address:  8300 Old Georgetown Road, Bethesda MD  20814
Phone:  301.652.2990
Please contact us at bethesdaumc@washmorefeet.org to find out more. 
Map: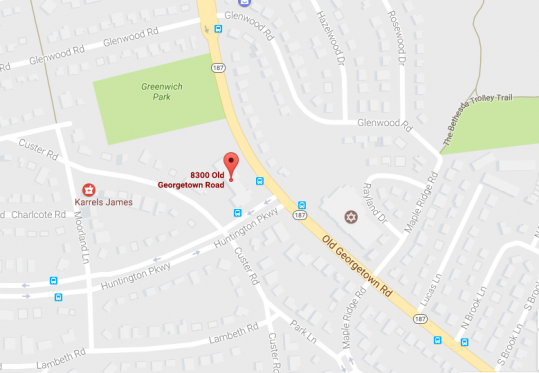 We are located at 8300 Old Georgetown Road in Bethesda at the corner of Huntington Parkway and Old Georgetown Parkway about two miles inside the Beltway on the right-hand side just a few blocks past Suburban Hospital and a mile "out" of the heart of Bethesda. Enter through the main doors at either end of the building, walk straight and you'll find the Sanctuary.  If you are headed to Sunday School, you'll either enter directly into the Education Building from the Old Georgetown Road Lot (in which case you are there!) or if you park in the Huntington Parkway Lot, go through the Sanctuary (door at front right) and you'll be in the Education Building. Signs are posted all around to help you find individual classrooms.  The Church Office is located just inside the Huntington Parkway Lot Entrance.