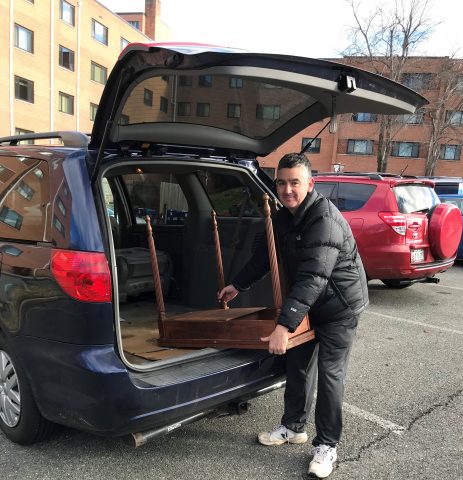 BUMC is involved in a partnership with Bethesda Cares in placing the most vulnerable of the homeless in our area into permanent housing. This project began in September of 2011 when Bethesda Cares joined the 100K Homes Campaign, a national movement of communities working together to find permanent housing for the homeless.  More recently, we've started working with Lutheran Social Services of the National Capital Area to assist refugee families. Ways to help include donating needed items or joining one of our move-in teams.
Donations of the following items are ongoing:
Cleaning Kits: cloths, sponge, all-purpose cleaner, toilet bowl brush and cleanser, broom and dustpan, dish-washing soap, all-purpose cleaning spray, paper towels, trash cans (small and kitchen size), plastic trash bags for kitchen and laundry detergent.
Furniture:  Small and medium sized dressers, kitchen and dining room tables and chairs, small and medium sofas, living room chairs, end tables
Other items to donate:  radio alarm clock (new or used)
All the following items can be used, but must be clean and in very good condition:  blankets (especially full and queen-sized), bed linens, pillows, towels, bath mat, dish clothes, kitchen towels, microwave safe bowls, cups, microwave safe dishes, drinking glasses, pots, pans, silverware, shower curtains (new), small chairs, folding tables, lamps, flashlights, small rugs, plastic plants, small and medium-sized TVs.
Please contact Janet Edmonds (j.edmonds@erols.com), Chair of the Welcome Home Ministry, for more information or to volunteer in some capacity.