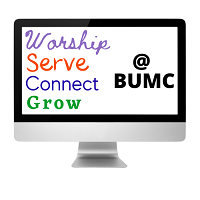 Ways to Be in Community Here at BUMC During the COVID-19 Shutdown
During this time of social distancing, it is more important than ever that we find ways to connect with our church family.  In addition to online worship, we have lots of small groups and weekly gatherings that you can be part of.  The list below is organized by our four areas of ministry (worship, grow, connect & serve). We invite you to check out them out and find the places where you fit in. We'd love to have you join us!
Note: all groups will meet via Zoom unless otherwise noted. Please email the contact listed to the added to the Zoom group
WORSHIP
You can tune into Sunday worship, Evensong, and Hymn Sing at washmorefeet.org/livestream or by going to YouTube.com/BethesdaUMCMD
Sunday Worship at 10:00 am
Join us for worship on Sundays for a service that includes a children's message, prayer time, music, scripture, and a message. Each week we are also including a slideshow of BUMC faces, so send us a picture of your family showing how you are sharing this time of quarantine together. You can email pictures to bethesdaumc@washmorefeet.org.
Thursday Night Live
Come sing and worship with us on Thursday night at 7:00 pm (an alternating schedule of Evensong and Hymn Sing).
    + Evensong Worship every other Thursday at 7:00 pm (July 9 & 23)
We are continuing our Evensong service beyond the season of Lent as a way for us to connect in worship during the middle of the week. Come be part of this contemplative worship experience.
    + Hymn Sing every other Thursday at 7:00 pm (July 2, 16 & 30)
Join our Director of Music, Chris Warrington, and choir director, Max Nolin, to sing some of our favorite hymns (feel free to email Max with special requests!). Copies of the lyrics will be posted on YouTube earlier in the day. Contact Max Nolin
 

GROW

 

CONNECT

 

SERVE

Sunday School for Children

Children's classes are meeting on Sundays at 11:00 am by grade level. Click here to access online curriculum. Contact Beth Reilly

---

Sunday School for Youth

Middle High: Sundays at 6:30 pm (starting June 14)

Senior High:  Sundays at 6:30 pm 

Contact Rev. Scott

           

UMYF (Youth Group)

Sundays at 7:00 pm

All youth in grades 6-12 are invited to be part of UMYF. Come hang out with us on Zoom for this weekly time of games, fun, and the opportunity to catch up with your friends! Contact Rev. Scott

Mask Ministry

A gifted group of crafters from BUMC are creating cloth masks that are  designed to be worn while out in public and to fit closely over the mouth and nose during the COVID-19 pandemic. If you would like to receive a mask please go to this link to complete the request form and/or to assist with the mask ministry. 

Young Adult Small Group

Thursdays at 8:00 pm & select Saturdays at 8:00 pm - The Young Adult Small Group is meeting on Wednesdays for Bible study and discussion and on select Saturdays for fellowship.

Contact Rev. Scott

Sunday School for Adults

Faith-Filled Parenting: Sundays at 9:00 am & Mondays at 8:30 pm

Come be part of this supportive community as we share how we are working to balance the new demands on our lives while raising and educating our children with love, grace, and patience. Contact Beth Reilly

Beyond: Sundays at 11:00 am

Join us to go beyond the scripture lesson and the sermon and delve into deeper meaning and application of the day's text. Contact Jack Fisher   

Philosophy, Theology & Religion (PTR): Sundays at 9:00 am

The Philosophy, Theology and Religion (PTR) class,

led by Don Ross, continues discussion on the most passionately anti-religious Existentialist, Friedrich Nietzsche, before moving on to Heidegger and Sartre. Contact Don Ross 

Men's Group

1st Wednesday from 6:30-7:30 am for breakfast and conversation

3rd Wednesday at 8:00 pm for discussion.

Contact Jack Fisher

BUMC Connects

BUMC Connects is a ministry that connects volunteers to help with some of the short-term needs of the BUMC community. There are several ongoing teams of BUMC Connects volunteers that are focused on specific needs. Some of the ways you can help include:

Cards: Sending cards to members of the congregation who are unable to participate in services or who are ill or who are in any way in need of a bit of encouragement.

Phone Tree: Making regular check-in type phone contact with those facing difficult times (at the request of the pastors and participants). 

Grocery Support: Assisting with shopping or grocery delivery for those who are homebound or unable to shop for themselves due to health concerns. 

Contact Mary Ann Toomey

 

Women's Book Group

Select Wednesdays at 8:00 pm  Join us for discussion of our book selection for the month.

Contact Dawn Lowrie

Kids with Purpose

First Sunday of the month at 11:00 am

Preschool and younger elementary age children, along with their parents, are invited to join us on Zoom for our online KWP ministry as we explore different ways to make a difference even during the pandemic! Contact Beth Reilly  

Grief Group

If you are grieving the loss of a loved one, you are invited to be part of our Grief Group. Come be part of this regular gathering as we share, pray and find community in walking through the process of grief. Contact Rev. Jenny

 

Gun Violence Prevention Ministry

BUMC's Gun Violence Prevention Ministry continues its work to raise awareness about death and injuries related to gun violence in our community.

Contact Susan Bender

 

Brown Bag Lunch Thing (BBLT)

Mondays at 11:00 am  - Join Rev. Jenny for weekly Bible study focused around the scripture for the upcoming Sunday. Contact Rev. Jenny

 
 
 

PRAYER GROUPS

Daily Prayer Call 

Monday-Saturday at noon

Join us for a brief prayer time on Zoom led by BUMC's Prayer Team.  Rev. Jenny will join the call on Wednesdays to offer a short reflection and lift up prayer requests from the community.

Contact Shaw Brewer 

 
 

Children's Time

Tuesdays at 10:00 am (on hiatus until summer)

Facebook Live & YouTube

We invite you to tune in on Tuesdays with your preschool and elementary age children for a story, craft or other special activity. Contact Beth Reilly